Gen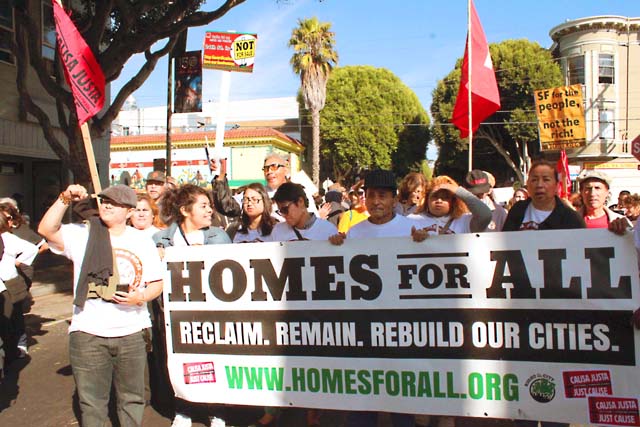 Mission Neighborhood March, San Francisco, Oct. 12, 2013, protesting an unprecedented wave of evictions and displacement. The challenge we face in the Mission District is one that working class neighborhoods face in urban centers around the world, and that we must unite to fight. We are proud to be building a new city-wide coalition in SF to stop this devastation, and to be anchoring Right To The City's national "Homes for All" campaign.
By David Madden/theguardian.com
It's no secret that today's big cities are massively unequal, and gentrification is now the predominant form of neighborhood development.
In countless urban districts across the world, affordable housing is on the decline and displacement is on the rise. This is especially true in New York and London, where observers are straining to find sufficient prefixes (mega, hyper and super have all been aptly applied) to describe the pace at which gentrification is changing the city.


But most of the discussion about gentrification doesn't do justice to everything at stake.


Here's how gentrification talk typically goes: poor neighborhoods are said to need "regeneration" or "revitalization", as if lifelessness and torpor – as opposed to impoverishment and disempowerment – were the problem.
Exclusion is rebranded as creative "renewal". The liberal mission to "increase diversity" is perversely used as an excuse to turn residents out of their homes in places like Harlem or Brixton – areas famous for their long histories of independent political and cultural scenes.


After gentrification takes hold, neighborhoods are commended for having "bounced back" from poverty, ignoring the fact that poverty has usually only been bounced elsewhere.


In an insidious way, the narrative of "urban renaissance" – the tale of heroic elites redeeming a city that had been lost to the dangerous classes – permeates a lot of contemporary thinking about cities, despite being a condescending and often racist fantasy.


When gentrification is criticized these days, it tends to be done in terms that muddle the issues. The least useful way to criticize gentrification is to obsess about an area's character, coolness, or even worse, "grit".
Lamenting the proliferation of cupcakes and cappuccino is a staple of reporting on places like Williamsburg or Dalston. But this kind of story reduces something that's all about inequality to middle-class agonizing over authenticity.


It's beyond time that policymakers, planners and urbanites de-gentrified their thinking about cities.

This will require abandoning a number of pervasive myths which have helped to legitimize inequality and contribute to gentrification's colonization of the urbanist imagination.


The leading myth is that the only possibilities for neighborhoods are gentrification or urban decay.
Well-meaning liberals sometimes think cities face a choice between the bad days of the past and a gentrified future.
Urban theorists invoke this same theme with the idea of the city as a ceaselessly changing organism that can either gentrify or stagnate. But these are all deeply misleading arguments, because they offer a false choice.
No serious critic of gentrification wants to maintain the status quo. Instead of either gentrification or decay,
Read more: Gentrification Doesn't Trickle Down to Help Everyone
Join us at the first vote of the Due Process for All ordinance by the full Board of Supervisors meeting this Tuesday September 24th @ 1:30 pm @ City Hall Room #250 (vote from last week was delayed)
Background:
As a result of all the powerful organizing, advocacy, and movement-building work our SF communities have been doing, Supervisor John Avalos and seven other courageous Supervisors introduced the "Due Process for All" ordinance on July 23.

On September 5 it was approved unanimously through the Neighborhood Services and Public Safety committee.
Last Tuesday, Sept. 17 more than 350 community members strongly urged the San Francisco Board of Supervisors to pass the "Due Process for All" ordinance. The Board decided to postpone the vote to consider a set of very narrow amendments to the broadly-supported measure.
The proposed amendments would, under very limited circumstances, allow potentially unconstitutional immigration "holds" to keep people for extra time in the local jail.

We continue to urge San Francisco to champion Due Process for ALL, not just for some.
We are hopeful that as we continue to engage community members in this process, the supermajority of co-sponsors on the Board will make sure that the ordinance remains a powerful challenge to the "Secure" Communities program by protecting all San Franciscans from abusive and likely unconstitutional ICE "hold" requests, including victims and
witnesses of crime.

We are reaching out because we need your presence on this next big step!

Join us at the first vote by the full Board of Supervisor this Tuesday September 24th @ 1:30 pm @ City Hall Room #250 (vote from last week was delayed)
We want to show the strong support for this policy, and voice that we believe our families belong together and no one should be denied their constitutional right to due process!

S-Comm has fueled the deportation of millions, separated thousand of families and has deprived our community members of basic due process rights. As the policy has moved forward there has been a request from a small minority that we amend it to exclude some community members, but due process is everyone's right and we stand strongly against any efforts to further criminalize our community.

We'll see you on Tuesday, only together will we bring about justice!
¡Cuando Luchamos — Ganamos!


Photo: Ryan Campbell
Tireless organizing and community presence helped fuel the Due Process for All ordinance approved today by the SF Board of Supervisors and introduced on July 23 by Supervisor John Avalos, with the co-sponsorship of seven other members of the Board.
Organizers and advocates were successful in limiting the harmful impact of carve outs on community members.
"This is a huge victory and we are stronger than ever to continue fighting for justice," said Cinthya Muñoz, CJJC's Regional Lead Organizer for Immigrant Rights
Photo: Cinthya Muñoz
Avalos told community members: "I don't believe we are going to get everything we wanted but we would never have gotten as much as we are going to get without your great work. What we have come out of the this board of supervisors will be an example for the rest of this country."
The "Due Process for All" ordinance brings San Francisco mostly in line with the practices of Cook County, IL (Chicago), Santa Clara County, CA, Washington, DC, and Newark, NJ, none of which currently respond to ICE holds.
Said Supervisor David Campos: "What we're about to do here today is very historic. I want to begin by making clear what happens in this chamber is a victory for the immigrant community in San Francisco and for all communities in San Francisco."
Last Tuesday, (Sept. 17), with over 300 community members in attendance, the Board continued its discussion of the "Due Process for All Ordinance" to this week's meeting after some members discussed the possibility of introducing limited amendments to the groundbreaking policy.
Since that meeting, community organizations pushed and lobbied hard to uphold basic constitutional protections for all San Franciscans, urging the Board to respect the principles of equality under the law and the value of rehabilitation.
The ordinance will heal the painful impacts of the discredited "Secure" Communities or S-Comm deportation program, which has shaken San Francisco's immigrant and advocate community for three years.
The program has separated hundreds of local families and created a chilling effect for witnesses and survivors of crimes who want to work with local law enforcement, but fear deportation.

The ordinance as originally written is backed by San Francisco's DA George Gascón, leading advocates for domestic violence survivors, Sheriff Ross Mirkarimi, the SF School board, community and faith leaders, the San Francisco Immigrant Rights Defense Committee, and a broad coalition of immigrant and civil rights and LGBTQ organizations.
Immigration hold requests, often triggered by S-Comm, have put even survivors of domestic violence at risk of deportation, undermining public safety by discouraging cooperation with law enforcement. For them, this ordinance is especially encouraging.
"Many people who are undocumented themselves who actually came (to testify), sin papeles, pero sin miedo (without papers but fearless) to be here knowing that speaking out is something that is really hard to do and creates greater scrutiny on oneself -- but also sacrificing that because they're not just working for themselves, but for the greater good. And I am very...


Despite tireless organizing and community presence that packed the main hearing room as well the "over-flow" room, the San Francisco Detainer Policy was unfortunately not able to have its first hearing before the Board of Supervisors Tuesday, Sept. 17.
Organizers and advocates were successful in limiting the harmful impact of carve outs on community members, but the negotiation to ensure this took much longer than hoped for. The first reading and ultimate passage of this critical legislation will be slightly delayed, though ultimately justice will be served for many immigrant families when it comes back before the Board.
The SF Board of Supervisors was set to debate the Due Process Ordinance -- considered a broadly-supported ordinance by Supervisor. John Avalos (D-11) to end the city's response to burdensome and likely unconstitutional immigration hold requests from federal authorities.

The measure would heal the painful impacts of the discredited "Secure" Communities or S-Comm deportation program, which has roiled San Francisco for three years. The program has deported hundreds of local residents and created a chilling effect for witnesses and survivors of crimes who want to work with local law enforcement, but fear deportation.

As the Due Process for All Ordinance has moved forward, there has been a misguided suggestion that the policy be amended to include "carve outs" whereby local law enforcement can be burdened with ICE hold requests in some circumstances. However, due process is everyone's right and any entanglement with ICE will deter immigrant victims of crime from reporting to local police. Up until the day the ordinance was set to be debated before the board, a broad coalition of groups worked diligently to stem what would have been detrimental carve-outs to the proposed ordinance.

Said one woman who testified at a previous committee hearing:
"Police arrested me and I didn't even know why. I thought I was being taken in to declare as a witness what happened to me. Instead I was detained for four days. I thought I was going in front of a judge. I didn't know my charges, Several days later I was turned over to ICE. It has been very difficult for me and my kids. I didn't know why I was there. I had the luck to finally be released on bail but how many do not make or have the resources for that and all of those families are still being separated?"


In a recent SF Chronicle op-ed, San Francisco District Attorney George Gascón came out firmly against immigration holds of any kind. DA Gascon's powerful statement exposes the profound constitutional abuses that stem from immigration hold requests. Click here to read the full op-ed. 

The "Due Process for All" ordinance would bring San Francisco in line with the practices of Cook Couny, IL (Chicago), Santa Clara County, CA, Washington, DC, and Newark, NJ, none of which currently respond to ICE holds. Meanwhile, a bill advancing in California's legislature, the TRUST Act, would set an important minimum standard limiting some harmful hold requests throughout the state.