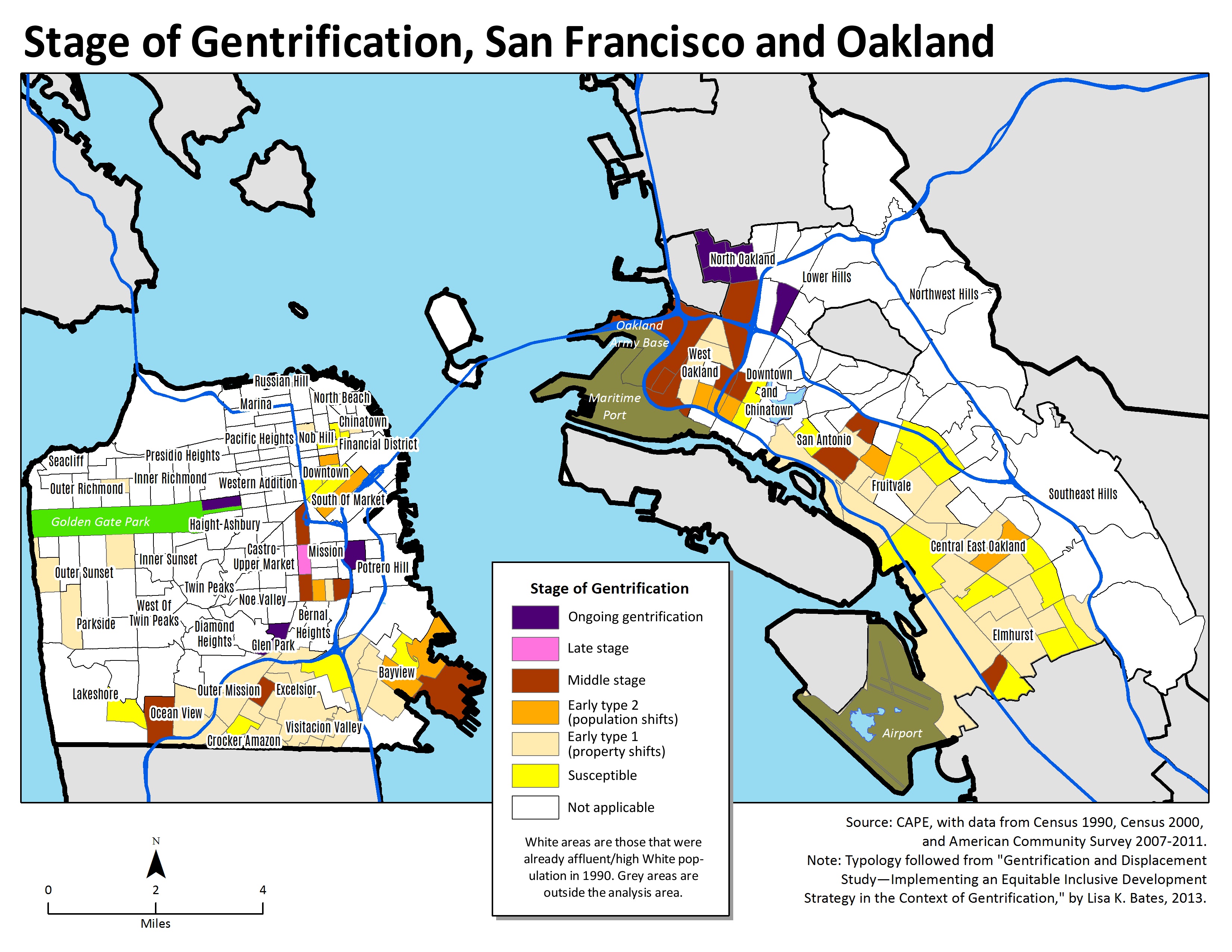 What: Release and Celebration of Development without Displacement Report
When: Monday, April 7th, 5:30pm
Where: Fruitvale Senior Center, 3301 E.12th street, suite 201, at Fruitvale BART
"Development Without Displacement: Resisting Gentrification"-buy your report online at
http://www.liberationink.org/content/development-without-displacement-resisting-gentrification-bay-area

Use the report as a tool to stop gentrification in your neighborhood!
• Learn which neighborhoods in the Bay Area are vulnerable or at risk to gentrification;
• Use policy recommendations designed to support organizers and advocates in identifying appropriate solutions for their communities;
• Learn organizing strategies that will help bring this vision to light;
• Understand how gentrification works and what you can do in your own neighborhood;
• Learn about the stories of real people impacted by gentrification and displacement and their fights to stay in their communities.
"I think it's important to defend yourself and stay strong, because it's difficult to move around especially when there are not enough economic resources. Now, the rent is really high and one has to earn at least $5,000, which is nearly impossible. Protections have supported me immensely because my economic situation has changed very much and knowing my rights and how to defend myself and how
to be stable in one place has supported me very much."
— Beatriz Mendez, CJJC Member

"This report shows that there are many reasonable policies at the local and regional levels that can help hold back the tide of gentrification and modify the worst effects of urban transformation."
---Dr. Richard Walker, Professor Emeritus of Geography, University of California, Berkeley
Case underscores the ongoing surge of harassment and evictions
flooding Mission District
When: Friday, March 12, 11AM
What: Press conference denouncing the illegal eviction lock out of immigrant tenant
Where: 3374 24th St., outside a four-unit building where he rented a room
Who: Locked out tenant, Supervisor David Campos, and Causa Justa :: Just Cause, local tenant's rights and immigrants rights organization and other allies
Why: To demand that Mr. Sanchez gets let back into his unit and his right to stay is protected.

•Tenant will be available for interviews, interpretation provided

SAN FRANCISCO-- In the heart of the Mission, on 24th Street. between the sparkle of Valencia Street and the few fruterias left on Mission Street, Jesús Sanchez, a Latino immigrant and Mission resident came home Wednesday night to find that the locks to the unit had been changed and all his belongings had been removed.
Because Sanchez was never served with notice nor given the opportunity to defend his ability to stay, it is an illegal eviction. Sanchez demands that his rights as a tenant be respected and that he be let back into the unit and resume his tenancy.

Sanchez has been living in the unit as a subtenant for 18 months. In January Sanchez contacted PG&E to report a gas leak. The utility company shut off the gas until a repair was made. Sanchez says one of the building owners turned the gas back on without addressing the leak.

The master tenant in the unit attempted to verbally evict him for reporting the leak and began harassing him to leave. On Monday March 10th, Sanchez says both the master tenant and the owner Eric Dabanne verbally attacked him screaming that he leave without giving him proper notice.

On Wednesday when he got home, not only were the locks changed, but also through the window the counselor and the tenant could see that the carpet had been pulled up and repairs had begun in the unit. On Thursday tenant and counselor contacted the owner to demand he be let back in the unit and he refused.

Sanchez is one of hundreds of tenants and subtenants feeling the brunt of gentrification in SF manifesting itself through harassment, abuse, illegal evictions and ultimately displacement. Building managers, landlords and real estate speculators continue to profit in as they bring in higher income tenants. 

Leticia Arce, CJJC counselor working on the case said, "We see these kinds of cases all the time, immigrant and low income tenants kicked out, and being replaced by higher income tenants who can pay up to double and triple the rent. Everyone but long-time tenants."

In 2013, almost 40% of our total eviction cases in our clinic came from the Mission district and over 60% of the time, there's no stated reason for the eviction. (from our clinic numbers)

His story highlights the need for stronger protections for tenants and protections for the growing number of sub-tenants who have to live together and pool their money due to rising rent prices and...
Congratulations to us ALL: As of
August 1
, DEBT SERVICE is no more.
The second reading to END DEBT SERVICE pass-through was voted unanimously!

Now begins the final actions to complete our pending victory on CAPITAL IMPROVEMENTS . . .
Tues evening, Apr 22, the Tenant Justice Campaign (TJC) will return to Oakland City Hall to assure that the Council keeps its promise to approve the "First Reading' of proposed language changing the Rent Law to finally include some benefits for tenants.

Please come to City Hall and show your support for tenants rights.

Broad support from the community WON our victory on Debt Service. Let's DO IT AGAIN for Capital Improvements.
Our item is #13, last item on the agenda, so please plan to arrive by 8pm.

Please register a "Speaker Card" online. Click: http://www2.oaklandnet.com/Government/o/CityClerk/s/SpeakerCard/SpeakerCard/OAK032373
Talking Points are below; more detail will follow in subsequent mailings.

Your support is very important. Email and/or call Oakland City Council members to express your support of TJC proposals. A sample message is provided below, which you can forward as-is or modify as you think appropriate.
===============================================================================

Subject: Urging Your Support of Tenant Justice Campaign's Concerns on New Capital Improvements Changes
TO: City Council members
TO: This email address is being protected from spambots. You need JavaScript enabled to view it. , This email address is being protected from spambots. You need JavaScript enabled to view it. , This email address is being protected from spambots. You need JavaScript enabled to view it. , This email address is being protected from spambots. You need JavaScript enabled to view it. ,
FROM MARCH UPDATE:
Tuesday March 11, the the Oakland City Council Community and Economic Development Committee decided to forward rent control recommendations to the City Council, but failed to make a specific recommendation to the council, so we are still pushing to make sure that the Tenant Justice Campaign recommendations are the ones approved. (click here for a list of our recommendations and for the history of the Tenant Justice Campaign)
Important next steps
• Petition
• Email your councilmembers
• Come to the Rally and Hearing March 18
Have you signed the petition? Please do so here:
Our goal: for 1000 people to sign our petition in support of the Tenant Justice Campaign!
We already have almost 400 signatures. Please send out the petition to you friends, post on facebook, twitter, email!
Use this to help identify your council district: http://mapgis.oaklandnet.com/councildistricts/


Tenant Justice Rally at Full Council Meeting
Tuesday, March 18th at 5pm we will have a rally and then head into the Oakland Council chambers to demand that the council meet the needs of the people of Oakland, rather than the landlords. For far too long, tenants have suffered the burden of unequal laws, while landlords reap the profit. Join us to demand that the city of Oakland stand up for the rights of tenants!
History
The Tenant Justice Campaign is an advocacy effort that we started to organize around in July 2013 when Oakland's rent adjustment program started to put recommendations forward to change Oakland's rent law.

Specifically the pass through regulations: debt service and capital improvements - the pass throughs that create the largest rent increases for "rent controlled" tenants in Oakland. It's our only local policy fix that addresses high rents in Oakland and our recommendations will significantly change how rent increases happen - they will force landlords to petition and cap rent increases.

The Tenant Justice Campaign put forward recommendations to the rent board in September of 2013 and they finally complied all of the recommendations to go to the Oakland City Council Community and Economic Development Committee on Tues, Feb 25th. In that meeting, the committee members postponed the decision until there was a landlord and tenant "mediation", which happened Weds., March 5th. Nothing came...